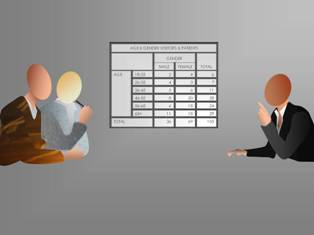 In-depth Interviews
Active dialogue with customers,
leaders, influencers
and other significant contributors
Customized interviews uncover information related to trends, market demand, and competitive activity, key product benefits, employee service, pricing, and personal values.
In-depth interviews are conducted with executives, industry professionals, consumers, and prospects.
•&nbsp Executive Interviews
A face-to-face, on-location dialogue with key industry personnel involved with decision making. Interview topics include trends, market demand, and competitive activity, key product benefits, and personal values. Quesited researchers document and identify product and service use, market opportunities, barriers, and new competition.
•&nbsp Telephone Interviews
Voice-to-voice dialogue with key personnel to gain insightful information about your customers, prospects, competitiors, and products.
•&nbspGlobal Interviews
The experienced researchers deliver insights from conversations around the world. Identifying opportunity and trends in global communities, Quesited delivers measured results to assess the impact on your organizational success.
•&nbsp Market-oriented Ethnography Study
Quesited researchers spend quality time with product and service users to give you a first person account of your customer's behaviors, attitudes, and opinions. This field-based research obtains information by observing and engaging your customers in their environment at point of consideration, decision, and sale. The study is conducted in both business and consumer environments.
•&nbsp Customer Satisfaction Analysis
Designed to improve your customer's experience; strengthen the relationship, regain lost trust, and improve interactions with your employees. The analysis yields actionable insights to improve service and deliver customer relevant products.
•&nbsp Win / Loss Analysis
An intelligence gathering tool conducted to improve business development, sales performance, and profitability. Quesited researchers collect information from your customers, clients, and prospects to understand their motivations and decisions to purchase or not to purchase.
•&nbsp Lost Customer & Prospect Analysis
A necessary tool to get back on track when business is lost. The Quesited analysis uncovers reasons your customers terminate their relationship with you, defect to a competitor, or cease to use your product or service entirely. Insights and recommendations improve customer experience, product performance, and communication management.